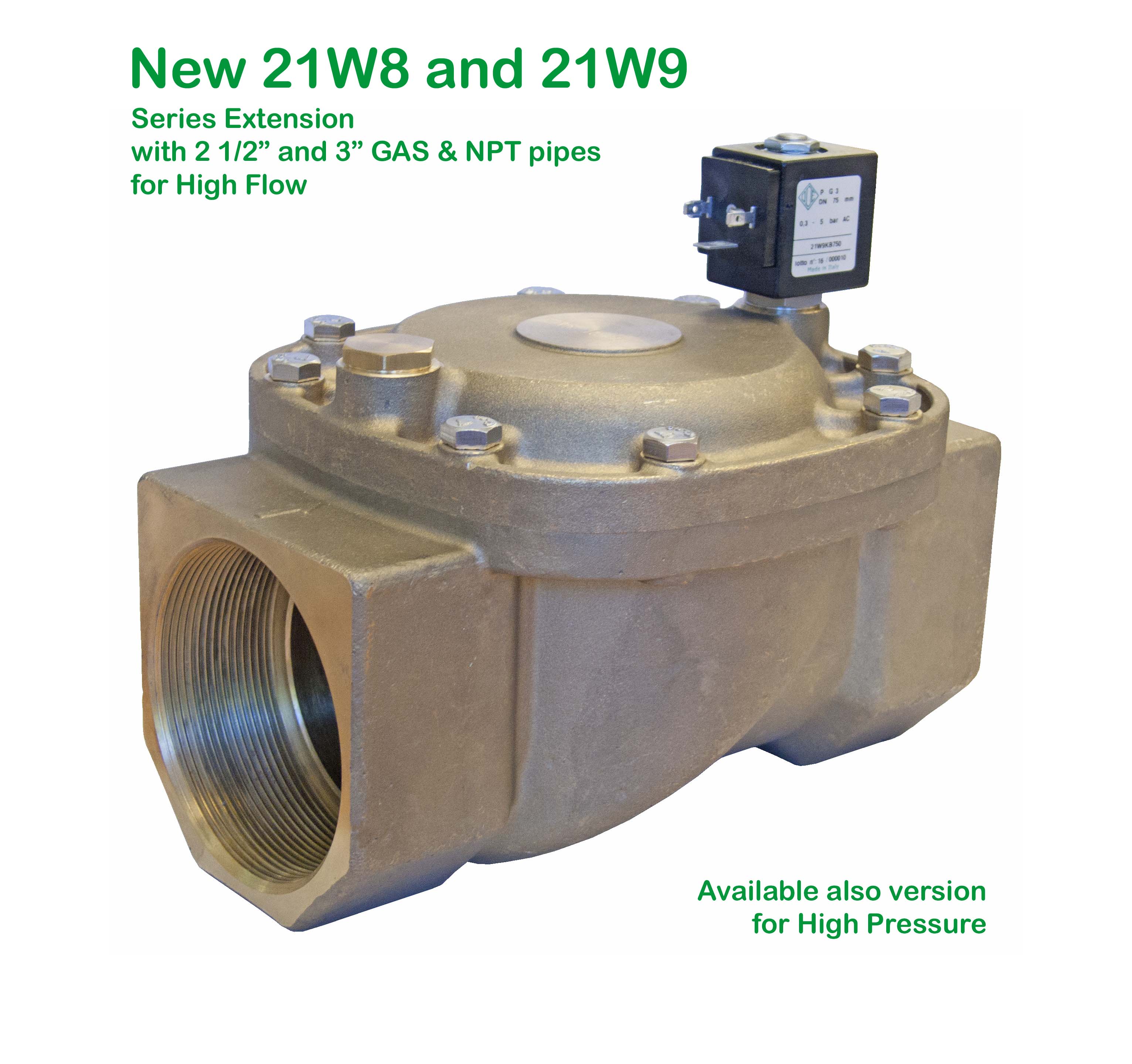 New 21W8 and 21W9
11 Gennaio 2017
---
ODE presents the new 21W8 and 21W9 2/2 way normally closed indirect acting brass solenoid valves, as the 21W-WN series extension with 2 1/2″ and 3″ GAS and NPT pipes valves for high flow rates.
The new solenoid valves 21W8/21W9 2/2 way normally closed represent the extension of the Ode brass series 21WA-W-WN indirect acting. The launch of the connection diameters 2 1/2″ and 3″ GAS and NPT pipes for domestic applications use and in large water and industrial plants where higher flow rates are required.
New 21W8/21W9 GAS and corresponding versions with NPT thread 21WN10/21WN11 are distinguished from the other valves of the same W-WN series with lower connection diameters, for high flow rates and high M.O.P.D. that they are able to manage.
The main advantages of the new 21W8/21W9 are the water hammer reduction thanks to the use of calibrated nozzles, the anti dirt filter slot on the nozzles. A flow rate among the highest in the solenoid valves market and a M.O.P.D. reaching 5 bar for the standard version and 15 bar for the high pressure version, while still maintaining a very low value about the minimum operating pressure, respectively of 0,3 and 3 bar.
New 21W8/21W9 are versatile as particularly suited to various sectors such as irrigation systems, aqueducts, water plants, pumping stations, fire-fighting and anti-flood systems, waste water management, cooling systems, thermal plants of large size and other general applications for large pipelines.
For further information and technical features, please see our website or ask to Customer Service.
---