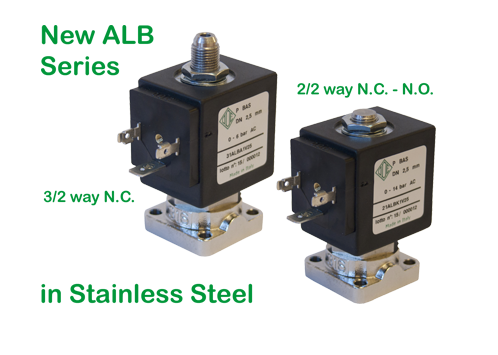 New 21ALB and 31ALB series in stainless steel
24 Maggio 2016
---
ODE introduces a new solenoid valve series called 21ALB 2/2 way N.C., N.O. and 31ALB 3/2 way N.C. direct acting in stainless steel.
New 21ALB 2/2 way normally closed and normally open and 31ALB 3/2 way normally closed direct acting are an addition to the stainless steel range for the applications where flanged interface is required.
The New ALB series provides better performance for more critical applications than our similar series 21A1 and 31A1 series in brass, and the technopolymer versions 21APB and 31APB, because the valve body and internal components are manufactured entirely of AISI 316 stainless steel, including the orifice.
The main advantages of the new ALB series are the full compatibility with any type of food grade fluid due to the total absence of lead, the resistance to extreme high and low temperatures for managing the steam and other liquids such as freon, nitrogen and ozone. Moreover, the high resistance to corrosion and deterioration makes this series and excellent choice.
Infact, these solenoid valve models are particularly versatile and therefore suitable for many market sectors such as Vending, Coffee Machines, Pneumatic, Sterilization, Fuel gas, Petrochemical, Refrigeration and Medical for handling aggressive fluids.
For further information and technical features please see our website or send an email to Customer Service sales@ode.it.
---